Mavid Construction wins 2023 AGC Build Wisconsin Award for new Aurora Sheboygan Hospital
Green Bay, Wis. – On Thursday, October 5th, Mavid Construction will accept its 4th AGC Build Wisconsin Award in the company's 15-year history. Mavid has earned this honor for the Aurora Sheboygan Hospital build. The award ceremony will be held at Milwaukee Tool Headquarters in Menominee Falls, WI.
The new Aurora Medical Center – Sheboygan has revolutionized healthcare for the Sheboygan community. Spanning 345,000 sq. ft., including a 115,000 sq. ft. medical office building, this cutting-edge facility boasts 113 beds and offers an expanded range of comprehensive services. Located at 3400 Union Avenue, Sheboygan, Wisconsin; this new hospital was a total replacement from the existing hospital, built in 1933. With its captivating design, featuring glass curtain walls, natural stone, brick, and modern interior elements, the hospital provides an elegant and serene environment that maximizes space and aesthetic appeal. In collaboration with the General Contractor, Mortenson, and architect, HGA, Mavid Construction performed work in the following divisions: Glass & Glazing, Walls & Ceilings, and Commercial Flooring.
In slightly less than 24 months, the dedicated glass installation teams placed more than 40,000 square feet of glass. The exterior installations accounted for 75% of the total glass installed, requiring the crews to withstand the harsh winters along the lakeshore. Meanwhile, drywall teams labored on-site for a span of 18 months, hanging nearly 2,000,000 square feet of drywall. In parallel, the flooring crews dedicated more than 20,285 hours to on-site installation.
In a collaborative effort to keep the project within budget and on schedule, the architect, HGA, and the client utilized a Master Systems Integrator (MSI). The divisions on-site had to familiarize themselves with this new integration system. As a company dedicated to staying abreast of the latest advancements in construction flow and management technology, this presented a valuable opportunity for the Mavid Construction team to collaborate with Mortenson and HGA, gaining knowledge and implementing this innovative option for seamless systems integration.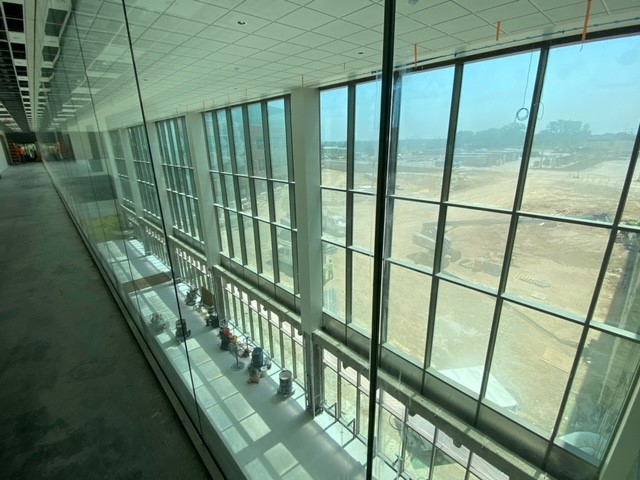 The Associated General Contractors of Wisconsin is the leading professional trade association for the commercial construction industry in the state of Wisconsin. Known as the voice of the construction industry, this chapter of the AGC of America provides its members with a comprehensive and invaluable array of educational, safety, environmental, labor, legal, legislative, public relations and industry-relations products and services. The association promotes skill, integrity and responsibility within the construction industry.
AGC of Wisconsin selects winners of the BUILD Wisconsin Awards based on craftsmanship, meeting difficult challenges, community and client impact, and sustainable practices and innovation.